This weekend, Wizards of the Coast unveiled a whole host of new releases for Dungeons and Dragons at its live event The Descent, including a hellish new story arc.
Perhaps the biggest event in the D&D calendar, D&D Live 2019: The Descent sees members of the RPG community gather both on and offline to find out more about the latest storyline to hit the Forgotten Realms and beyond.
Building upon from last year's event, the Stream of Many Eyes, The Descent did not disappoint, with a stronghold full new releases, including a brand new campaign setting and boxed sets.
Baldur's Gate: Descent into Avernus
Perhaps the biggest and most exciting announcement from Wizards of the Coast, was the next big story arc, Baldur's Gate: Descent into Avernus. While the last campaign book took players on a journey through Waterdeep and the Dungeon of the Mad Mage, this time they will traverse the first layer of the Nine Hells located in Avernus, as the celestial-turned archdevil Zariel attempts to enact his long-awaited vengeance upon the city of Elturel.
A story filled with betrayals, unspeakable evils and a fallen angel, the book will allow adventurers to move from level 1 through to 13, where they must choose to save Avernus or give into corruption itself.
Baldur's Gate: Descent into Avernus is available for pre-order now and will be in stores from September 17, 2019.
D&D Essentials Kit
Having wanted to get into D&D for years, but feeling it might just be a bit too complex, one of Wizard of the Coasts greatest releases (in my opinion as a new player), was the Starter Set, which allowed both adventurers and new DMs to get to grips with the mechanics with the world of Dungeons & Dragons.
This weekend, Wizards of the Coast has announced the release of the Essentials Kit, a new boxed set that follows on from the popular Starter Set. A 64-page rulebook will help players create their our characters using five core classes; cleric, fighter, rogue, wizard and bard, rather than using pre-generated characters like those found in the Starter Set.
Players will embark on a new adventure in Dragon of Icespire Peak, which will take them from level 1 to 6. The kit also includes a poster map of Phandalin, where the adventure takes place, as well as a deck of magic items, conditions, quests and course creatures. There's a great new DM screen, two d20s and four d6s, perfect for rolling new stats.
One problem that often stops people from getting into D&D is having enough players to join the party, but the Essentials Kit includes a new 1-on-1 rules variant, which turns any D&D campaign into a solo adventure with just a single player and a DM. Previously introduced in Unearthed Arcana, the new Sidekick Rules allows a single player to control their own character, as well as several sidekicks – perfect to tackling those harder missions.
The Essentials Box launches worldwide September 3, 2019.
Dungeons & Dragons vs. Rick and Morty
If one new boxed set wasn't enough, don't worry Wizards of the Coast has another one up its sleeve, albeit one with a twist. Following on from the Rick and Morty vs. D&D comic series, the minds being D&D have partnered with Adult Swim, the creators of Rick and Morty, to create a new boxed adventure that puts players right in the centre of the Rick and Morty universe.
The adventure blends the world of Dungeons & Dragons with the mad narcissistic genius of Rick Sanchez's power-gaming sensibilities, and it includes everything a Dungeon Master needs to channel their inner mad scientist and run a rickrolling adventure for up to 5 players, levels 1-3.
Battle for Baldur's Gate
As well as epic adventure books and new boxed sets, Wizards of the Coast also announced the first expansion for one of my favourite party card games, Dungeon Mayhem.
If you're unfamiliar with the game, players take on the role of one of four adventurers; a barbarian, paladin, rogue or wizard. Using the cards in their deck, they must fling magic missiles, sling daggers and even make use of a disguise or two to claim victory over a dungeon full of treasure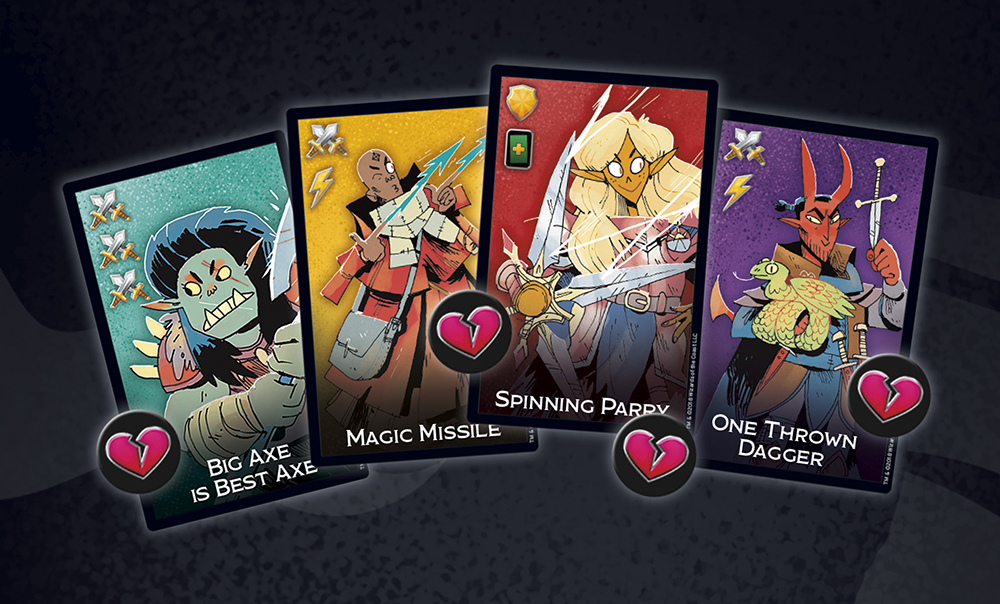 Battle for Baldur's Gate introduces two new decks, featuring characters from the classic PC RPG, Baldur's Gate, including Minsc the ranger and his miniature giant space hamster Boo and the druid Jaheria.
A release date for Battle for Baldur's Gate is still to be announced.
To relive all of the action from D&D's live event, head over to Wizard of the Coasts' website and check out highlights, interviews and more from The Descent.
For more Dungeons and Dragons related stories from us, click here.